It was a cold, cloudy and windy day on Saturday, September 7th but that didn't keep Wendy and her Quad Squad from walking 3 miles to help fight heart disease and stroke! This is the American Heart Association's biggest event in Boston.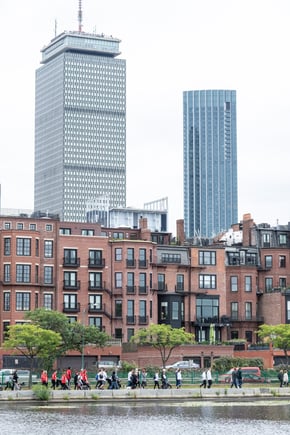 Jet Mail Participates in the 2019 Boston Heart Walk
After a Jet Mail employee underwent immediate surgery for a heart attack, the Jet Mail team walked alongside her in the 2019 Boston Heart Walk.
When asked why she walked, Wendy said, "Every dollar we raise, every step we take, helps fight heart disease, and your contribution makes an impactful difference in doing so. Together we can provide the support and research to make heart disease history!"
"It takes a village to get through such a life changing event and my village will consist of friends, family and co-workers that have been by my side this past year – those who have continued to applaud, encourage and give me the strength needed to fight this battle each day."
Jet Mail Team Raises Over $2,000 for the American Heart Association
Together, Wendy's team raised over $2,000 for the American Heart Association. If you'd like to donate to the association, you can do so here.