Found the perfect couch online, but can't decide between the Bear Brown or Rustic Brown leather?

You click the "Request a Sample" button on the website and submit a form with your mailing address and the fabric samples you're interested in. Two days later, an elegantly branded Couches.com box arrives with your samples and product brochures. After seeing the samples, you decide that the Bear Brown leather is perfect and make the purchase.

Your living room is now complete and yet another sale for Couches.com is attributed to a well-executed marketing fulfillment strategy. So, what exactly is marketing fulfillment?

Marketing fulfillment is the end-to-end capability to create, manage, and deliver marketing materials.

Think of marketing fulfillment like scoring a touchdown. Your digital marketing strategy is the offense that got the ball all the way to the 1-yard line, marketing fulfillment is the quarterback and your customer is wide-open in the end zone.

Like a perfect pass from Tom Brady to Gronk for the touchdown, well-executed marketing fulfillment gets your marketing materials in the hands of interested customers.
Done correctly, marketing fulfillment leads to higher conversion rates and increased sales. But issues like shipping delays or poor inventory management can literally kill an otherwise flawlessly executed marketing strategy...kind of like that missed Seahawks touchdown in the last six seconds of Super Bowl 54.
Read on to learn how marketing fulfillment works and what it takes to implement a successful fulfillment strategy.
| | |
| --- | --- |
| 79% of organizations with well-executed marketing fulfillment achieved revenue growth higher than their industry average. | 84% of customers will not do business with an organization after one poor fulfillment experience |
How Does Marketing Fulfillment Work?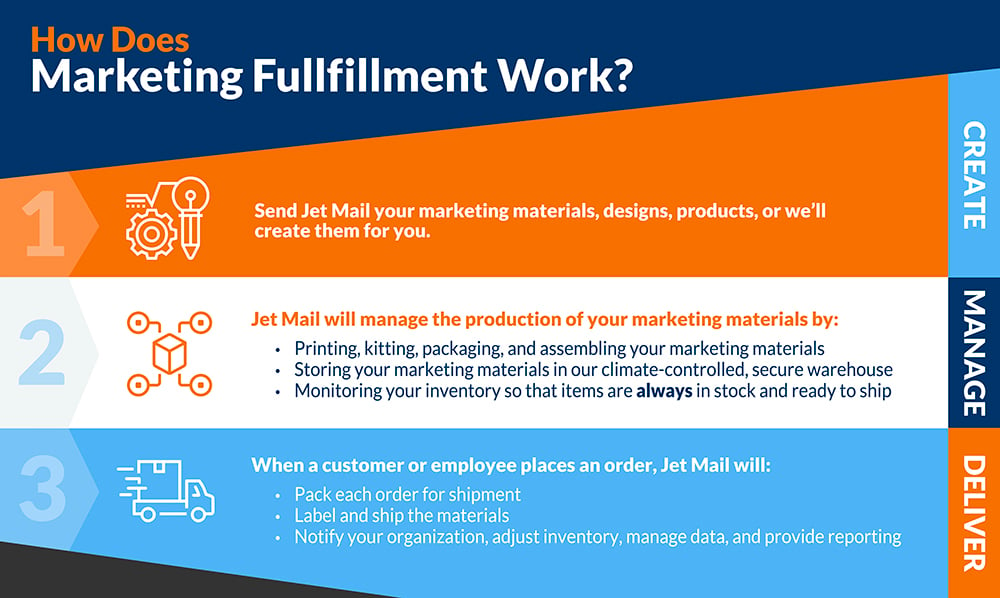 Ingredients for Successful Marketing Fulfillment
Successful marketing fulfillment requires fast turn-around times and precise inventory management.

Why Speed to Market is Critical
Consumers in nearly every industry expect fulfillment at the speed of Amazon. Taking three weeks to get a marketing kit to a customer is too long; they expect it in three days.
63% of consumers expect a standard delivery to arrive within three days.

Source

61% of consumers want faster deliveries.

Source
Delayed fulfillment times and slow speed-to-market gives competitors the advantage when it comes to reaching consumers with their products, services, or offers before you do.
For example, in the automotive industry, a 30-day business cycle is standard, so print and direct mail offers must move through the marketing process quickly to prevent missed opportunities.
Precise Inventory Management
The most frequent cause of marketing fulfillment issues is poor inventory management. Out of stock or outdated marketing materials will cause even the most strategic of marketing campaigns to fail.
The cause of poor inventory management is usually due to human error or weak links in the supply chain. In fact, 62% of businesses report human error from manual process management as the #1 cause of fulfillment issues. The key phrase here is 'manual process management.' Manually managing, organizing, and distributing marketing inventory is time-consuming, resource-draining, and creates too many opportunities for human error.
Fortunately, web-to-print and online portals can take the manual component (and human error) out of marketing fulfillment. Online ordering streamlines print-on-demand for fast fulfillment and real-time inventory management analyzes what materials are ordered most and in what areas – all helping to expedite delivery times, manage inventory costs, and generate more sales.
The dedicated professional services team at Jet Mail creates custom portals for every client to ensures marketing fulfillment is executed flawlessly. Use cases of Jet Mail's custom portals include:
Home and Business Services Industry: direct mail and data-driven targeting for neighborhoods and demographics

Finance Industry: secure and compliant data management and on-demand documents

Non-profit Industry: personalized appeals, invitations, and donor-based management

Higher Education Industry: recruiting material, personalized alumni mailings, outreach, and newsletters
In-House vs. Outsourced Marketing Fulfillment
Any organization that takes on marketing fulfillment efforts in-house should be prepared to make significant investments of capital for warehousing, production floor space, time, training, hard assets, and human resources.
In-House Talent and Infrastructure Requirements

Print management expertise is required along with the infrastructure and manpower to handle the demand for a wide variety of print formats including wide format printing and oversized sales or trade show materials. Bindery skills and equipment for folding, trimming, scoring, and perforating are also required.
Precise inventory management is business-critical, along with the print-on-demand workforce required for kitting and packing. As mentioned earlier, one of the main causes of fulfillment delays is poor inventory management.
IT and data management talent are also necessary to ensure that regulatory compliance is maintained, maintain portals, set up integrations, and manage order fulfillment workflows.
One of the biggest challenges of in-house marketing fulfillment is that these expensive resources and assets can't be easily scaled up or down to adjust to dynamic market conditions or fluctuations in demand. This is why businesses outsource parts of their marketing fulfillment like printing, design, data management, or inventory management to different vendors.
Unfortunately, each independent vendor involved in the order process is another potential weak link in a marketing fulfillment supply chain.
The Jet Mail Difference: Your End-to-End Marketing Fulfillment Partner





End-to-end production from Jet Mail empowers your organization with reliable, easy-to-use, on-demand printing, packaging, mailing, distribution, and inventory management capabilities from a centralized source that acts as an extension of your marketing department.
Jet Mail has decades of experience working with a variety of industries and markets to meet the demands of marketing fulfillment. Our end-to-end services are successful in even the most challenging sectors such as the pharmaceutical and automotive industries where speed-to-market and adhering to rigorous compliance requirements are mandatory.
Join the growing ranks of our satisfied clients and let the experts at Jet Mail handle all of your marketing fulfillment needs. If you're ready to print or are just at the idea stage with a thumbnail sketch, contact us today.